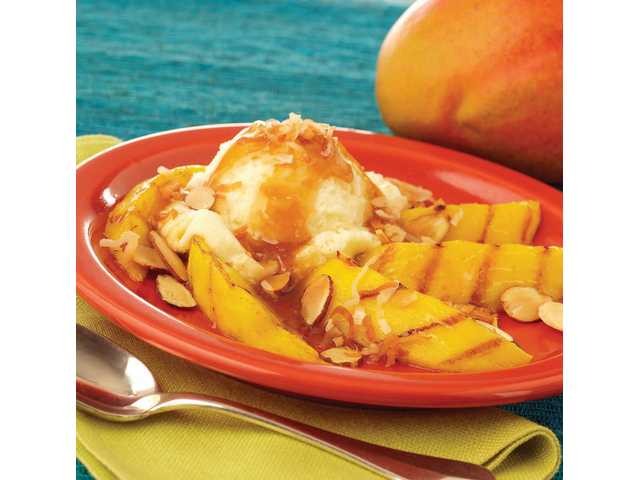 Grilled Mango with Spicy Rum Glaze and Vanilla Ice Cream
Courtesy photo
For The Signal
Posted: July 28, 2009  7:32 p.m.
POSTED  July 29, 2009 4:55 a.m.


Makes 4 servings
Prep time: 15 minutes
Cook time: 20 minutes
4     tablespoons unsalted butter
2     tablespoons unsweetened
pineapple juice
1 1/2     tablespoons honey
1/2     teaspoon chili powder
1/2     teaspoon cayenne pepper
2     tablespoons dark rum
2     firm mangos, peeled pitted and sliced into strips
Nonstick cooking spray
1     pint vanilla ice cream
1/2     cup flaked coconut sweetened, lightly toasted
1/4     cup sliced almonds, lightly toasted
4     lime wedges (optional)
Heat butter, pineapple juice, honey, chili powder and cayenne pepper in small saucepan over medium heat; bring to a boil. Reduce heat and simmer, stirring occasion­ally, over medium heat, until mixture begins to thicken slightly, about
10 minutes. Stir in rum; remove glaze from heat. Set aside to cool completely.
Brush mango slices with some of the glaze and let stand 10 minutes. Spray nonstick ridged grill pan with nonstick spray and set over medium-high heat. Add mango slices and grill, turning occasionally, over medium-low heat, until browned and nicely marked, 3 to 5 minutes.
Place two mango slices in each of 4 dessert bowls. Top each serving with 1 scoop ice cream, 2 table­spoons toasted coconut, and 1 tablespoon almonds; top with additional mango slices. Drizzle each with remaining glaze. Serve with lime wedges, if desired.